Seminar with Stephanie Quirk
When
20/10/2018 – 23/10/2018
Where
Montauto (Rapolano Terme, Siena)
Participation fee
450,00 €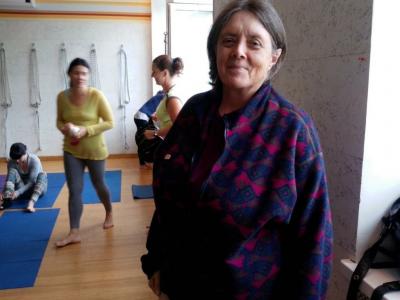 Program
Arrival is on Saturday morning, 20th October. First lesson starts at 10.00 am
The seminar will end Tuesday 23rd October, at 4.00 p.m.


Stephanie's teaching so clear and so penetrating helps to understand not only the effect of āsanas on the inner organs but their effect on both nervous system and mind. Stephanie's capacity is to transmit in a very accessible way the experience of her assistance to Guruji and Geetaji  at the medical classes in Pune.
This workshop will consist of two parts. Day 1 and Day 2 will be dedicated to the emotional and mental wellbeing, Day 3 and Day 4 will be dedicated to cancer, how to build the practice before and after treatment.
The workshop is open to the teachers, teacher trainees as well as to the experienced students which don't need an explanation for how to do the basic āsanas.
Cosa portare
Participants must bring their own yoga mat.
All props will be provided, excluded yoga mats.
Come arrivare
A shuttle bus will be provided to and from Rapolano Terme. It will depart Saturday the 20th october at 8:00 am from "Istituto Iyengar Yoga Firenze", Via San Gervasio 18, Florence and will depart from Rapolano 23d october at 4.15 pm to come back. The cost is 35,00 euro each way and is non-refundable. The shuttle must be reserved at the time of registration. For those who will not be staying at Montauto, a car will be necessary to travel to and from the retreat site.
Dove alloggiare
Lodging is a separate cost. Different types of accommodations are available below. You are responsible for reserving your own accommodations. 1) In the rustic farmhouse at the retreat site there are limited beds available. There are no private rooms or baths. Booking is first come, first serve. Rooms may only be reserved via email and with confirmation of full payment. Accommodation cost: € 100 2) Camping is available near the main house with its own facilities. Space is limited. Accommodation cost: € 50 3) Recommended Hotel List: • Hotel Due Mari; Località Bagni Freddi, 53040 Rapolano Terme (SI), tel: 39 0577 724 070, fax: 0577 725 414; website www.hotel2mari.it ; email: hotelduemari@tin.it . Three star, very pleasant, swimming pool (not thermal), less than 10 minutes by car to the retreat site. • Hotel San Giovanni; 53040 Rapolano Terme (SI), tel.: 39 0577 724 030, fax: 39 0577 724 053; website: www.termesangiovann.it ; email: terme.s.giovanni@iol.it ; 3 star, thermal water pool, massage and physiotherapy, ten minutes from the site by car. • Villa ai Boschi, fraz. San Gimignanello - Rapolano Terme, Tel: +39 0577 704394, www.villadeiboschi.com • Villa Buoninsegna: Rapolano Terme, tel/fax: 39 0577 724 380, website: www.buoninsegna.it ; Ten minutes from the site, charming newly renovated farmhouse with swimming pool (not thermal). One double bed per room whether for single or couple. Price does not include breakfast.
Come iscriversi
Cost for the total workshop € 450 (€ 270 for the workshop, € 180 for food, including three meals a day not refundable if not consumed). Cost for the first 2 days € 250 (€ 160 for the workshop, € 90 for food, including three meals a day not refundable if not consumed) The number of reservations is limited and operates as first come, first serve. In order to participate you need to be a member of Istituto Iyengar Yoga Firenze. The membership costs 10 euros.Reservations are confirmed only after payment of deposit of € 200.
The fee includes the food.
The fee does not include the accommodation.
In case of a cancellation before the 20 September reimbursement of € 100, after 20 September no reimbursement.

Per ulteriori informazioni, prenotare e fare il versamento dell'anticipo, potete telefonare (+39) 055 582821 o inviare una e-mail a: info@yogawisdomitalia.it